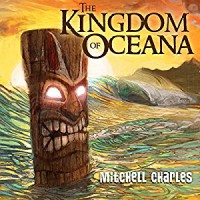 Two Hawaiian princes are coming of age and their sibling rivalry could turn to more than pranks and minor disagreements. When their trespassing on forbidden ground unleashes an ancient curse, things turn bad between their island and a rival island kingdom. Sorcery, surfing, and subterfuge combine in this beautiful coming of age story.
Prince Nahoa and his younger brother, Prince Ailani, are on the cusp of manhood. Their father has lead their island kingdom well for these many years, but now a rival island, Pearl Island, seeks their support and subservience. None of the royal family are eager to enter into such an agreement. There's sibling rivalry, a minor love story, adventure, magic, mystery, and talking to animals. I was enchanted by this story.
The entire tale is told through Ailani's eyes and I became rather attached to him. I really wanted him to come through this book intact. While he knows his place isn't to rule (that's the first son's job once his father passes), he still has a well developed sense of right and wrong. Coupled with that is his ability to forgive, which is greatly tested where his brother is concerned. Nahoa is constantly teasing Ailani and sometimes outright insulting him. There's also his pranks, one of which leads to the unleashing of a curse.
Both princes are tutored by the island's kahuna, which is a magician priest. Ailani does a better job listening than Nahoa and he has a stronger bond with the old kahuna. The magic element of this story is so well done. The characters don't question that magic exists because they have grown up around it. There's shape shifting, speaking with animals, playing with lightning, telepathy, and more. I especially liked the bond with animals that most of the characters had. While the animals don't talk back per se, they do respond to conversational questions, prompts, and commands. You can really tell a lot about a character in how they treat animals and that idea isn't lost on Ailani.
My one little criticism for this story is that there are so few female characters. There's princess Momi, who has a spark to her but is basically a love interest. Then there is Ailani's mother who we catch glimpses of. She might have her own personal agenda or her nature may simply be to be a selfish and manipulative; we saw so little of her it's hard to say which it is. I was most impressed with the daughter of the chief navigator; he's training her to walk in his footsteps one day. Then there was an old lady selling fruit at market… and I do believe that was it for female characters. The story would have been enhanced by using some female characters to move the plot along instead of having them all be minor characters.
The story makes great use of the setting. This is one of those books where the setting is nearly a character unto itself based on how much it affects the story line. The Hawaiian culture is on full display. I loved that travel times between islands were realistic. I also had fun trying to guess what century this tale was set in. The islands have pigs, goats, and dogs so I was guessing perhaps this story takes place in the 1700s or 1800s.
Starting with some sibling rivalry to kick us off, the story build and builds. The unleashed curse isn't initially a big deal but later it does become so. I loved learning alongside Ailani how this balance of nature and magic, or good and evil, of traditional ways and outside influences all tied together in the final burst of action. I really didn't know how things would turn out for Ailani, Momi, and Nahoa and I was on my seat's edge as I finished this book. The ending was satisfying but also left me ready for the next adventure in Volume 2.
As an aside, the publisher and/or author have a great website (http://kingdomofoceana.com/) set up for this book that includes study guides, a glossary, and a map. They really went all out in making this book a great pick for a class read complete with activities and quizzes built into the study guides.
I received a free copy of this book from the publisher.
Narration: Rayton Lamay was such a perfect pick for this book. I really felt submerged in to the Hawaiian culture with his narration. While I'm no expert on Hawaiian accents, he maintained a consistent accent throughout the entire book. He was also great at keeping all the characters distinct and his female voices were believable. He was wonderful at imbuing Ailani with the appropriate emotions.